Summer jam : music and tab / by Justin Moss.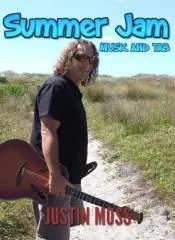 Identifier: ISBN 9780994127792
Cruising -- Interlude -- True blue -- Sailing away -- Oh yeah -- Chikin pikin -- Haunted -- Racing.
"The collection of songs here differ greatly in style and performance type, and cover a multitude of techniques"--Page 9.
Includes background information, and technical and performance notes for each piece.
Staff notation; Tablature; Chord symbols.
Medium of performance - guitar 1
Publisher: [Hamilton, New Zealand] : JMLM Publications, 2016.
Format: 1 score (65 pages) ;28 cm
See original record
This item in New Zealand libraries
https://natlib.govt.nz/records/36845416
---
Share this item