Conjunctions / by Peter King.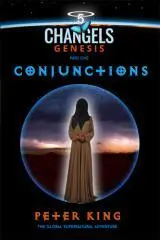 Identifier: ISBN 9781927264416
Series: King, Peter, 1961- Changels Genesis trilogy ; pt. 5.
"Detective Sue Williams discovers nothing is off limits as the alien infiltrator society called Die Bruderschaft tries to use her to destroy the Changels. But as Sam's ongoing story reveals the dimensions of this conflict go further than she ever imagined"--Publisher's website.
Novel for young adults.
Target audience: Secondary, National Library of New Zealand.
Other Versions: Online version: Conjunctions
Related to: Contained in (work): King, Peter, 1961- Bruderschaft.

Publisher: Wellington, New Zealand : Peter King Publishing, [2016]
Format: 467 pages ;23 cm
See original record
This item in New Zealand libraries
https://natlib.govt.nz/records/36722072
---
Share this item