Into darkness / by Peter King.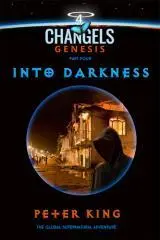 Identifier: ISBN 9781927264409
Series: King, Peter, 1961- Changels Genesis trilogy ; pt. 4.
"Once again Sue and Sam are safe but now Sam starts to explain that the Changels are not the only force at work trying to influence humanity's destiny. The shadowy alien infiltrator group, the Bruderschaft, are single-minded and utterly ruthless in using humanity for their purpose. But to find out how they tracked the Changels down Sam must confront them" --Publisher description.
Novel for young adults.
Edition 3.
Target audience: Secondary, National Library of New Zealand.
Other Versions: Online version: Into darkness
Related to: Contained in (work): King, Peter, 1961- Metamorphosis.

Publisher: Wellington, New Zealand : Peter King Publishing, [2016]
Format: 452 pages ;23 cm
See original record
This item in New Zealand libraries
https://natlib.govt.nz/records/36722071
---
Share this item