Renaissance / by Peter King.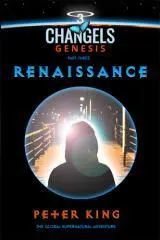 Identifier: ISBN 9781927264393
Series: King, Peter, 1961- Changels Genesis trilogy ; pt. 3.
"Sam Kahu's memories of training and world travel surprise detective Sue Williams in more ways than one. Not only are they darker, deeper, and more disturbing than those of most troubled teens she deals with; they are also more dangerous - especially when Sam's enemies arrive at her door" --Publisher description.
Novel for young adults.
Edition 3.
Target audience: Secondary, National Library of New Zealand.
Other Versions: Online version: Renaissance
Related to: Contained in (work): King, Peter, 1961- Metamorphosis.

Publisher: Wellington, New Zealand : Peter King Publishing, [2016]
Format: 289 pages ;23 cm.
See original record
This item in New Zealand libraries
https://natlib.govt.nz/records/36722070
---
Share this item