The weaving / by Peter King.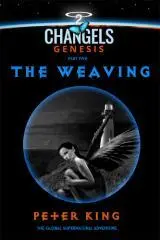 Identifier: ISBN 9781927264386
Series: King, Peter, 1961- Changels Genesis trilogy ; pt. 2.
"Hidden in a safe-house Sam tells Sue how six minority families, all needing refuge, and all with one psychic teenager ended up coming to live and work for the mysterious Russian financier Dr Gennady Prosperov at haunted Renwick House. Then how Dr Prosperov's amazing experiment in the abandoned lighthouse shocked two worlds"--Publisher's website.
Novel for young adults.
Edition 3.
Target audience: Secondary, National Library of New Zealand.
Other Versions: Online version: Weaving
Related to: Contained in (work): King, Peter, 1961- Serendipity.

Publisher: Wellington, New Zealand : Peter King Publishing, [2016]
Format: 366 pages ;23 cm
See original record
This item in New Zealand libraries
https://natlib.govt.nz/records/36722068
---
Share this item