Whole : recipes for simple wholefood eating / created by Bronwyn Kan.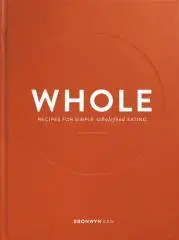 Identifier: ISBN 9780992264864
"Featuring recipes from premier wholefood bloggers and entrepreneurs, WHOLE is a book born from the demands for better food. Compiled by Bronwyn Kan, WHOLE explores the personal relationship between each contributor and the food they make. Drawing from their collective experience, the healthy wholefoods recipes within are simple to make and are designed to nourish body and mind"--Back cover.
Olivia Scott -- Hannah Horton & Eleanor Ozich -- Buffy Gill -- Sophie Carew -- Monique Satherley -- Danijela Unkovich -- Kelly Gibney -- Abbylee Childs & Twyla Eloise -- Hannah Horton -- Jordan Rondel.
Publisher: Auckland, New Zealand : Beatnik Publishing, 2015.
Format: 182 pages :colour illustrations ;29 cm
See original record
This item in New Zealand libraries
https://natlib.govt.nz/records/36138037
---
Share this item