Yours faithfully, Henry Tewsley : from his personal letterbook of the colonial years 1854-78 / edited by Ally McBride.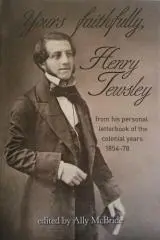 Date

2015.

By

Tewsley, Henry, 1824-1879 author., McBride, Ally, 1955- editor.

Identifier

ISBN 9780473320348

Notes

"Ally McBride is a descendant of Henry Tewsley. She has transcribed Henry's letters and fully researched his family and times"--Back cover.

Includes bibliographical references.

Publisher

Wellington, New Zealand : Ally McBride, 2015.

Format

227 pages :illustrations ;23 cm
See original record
Click to request to view this item, access digital version (if available), and see more information.