Hero is a man / Nix Whittaker.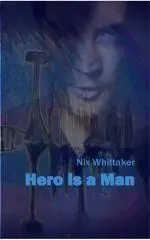 Identifier: ISBN 9780473314835 softcover
Series: Whittaker, Nix, 1981- Glyph warrior novel.
"Hero is a man afraid to run away. He isn't running anywhere ... Misha has never met someone like Halcyon. His world had always been the city neighborhood he had grown up in. He kept his nose clean and he stayed out of trouble. The blue haired little genius was anything but peaceful as she draws him into a world of science that is so worlds ahead of everyone else it seems like magic. But Misha is ready for some magic in his life, he isn't so sure the crazy inventor was ready for him. Halcyon has found the secret to bringing the most out of the human potential, only she has to guard her secrets from unscrupulous gangs who threaten to take over the neighborhood and the state. She has no idea what to do with the very large man that has volunteered to be her guinea pig. Why can't people just leave her alone? Together they have to learn whether they are man enough to be heroes"--Back cover.
Novel.
Other Versions: Online version: Hero is a man
Publisher: [Taumarunui] : Reshwity Publishers, [2015]
Format: 217 pages ;21 cm
See original record
This item in New Zealand libraries
https://natlib.govt.nz/records/35697742
---
Share this item