A mountain all can climb : a state of the nation report from the Salvation Army / Alan Johnson.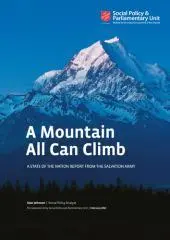 Identifier: ISBN 9780994105530 paperback
Reissued in 2015 with 2 leaves of amendments.
Includes bibliographical references.
Alexander Turnbull Library copy PamBox q842 contains the 2 leaves of amendments.
Other Versions: Online version: Mountain all can climb
Publisher: Auckland : The Salvation Army Social Policy & Parliamentary Unit, 2015.
Format: 91 pages :illustrations (some colour) ;30 cm
See original record
This item in New Zealand libraries
https://natlib.govt.nz/records/35436530
---
Share this item