Voyage to New Zealand in the "John Temperley" ; &, Hiikoi to the Kaipara 1865 / journal of James Alexander Pond ; annotated by Neil Fredric, Margaret Gray, Wendy Pond.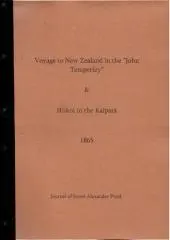 Identifier: ISBN 9780473315627
"Tells the story of three young Londoners, Alex Pond aged 18, Sam Dyer age 14, and Ella Atkison age 7, who voyaged to New Zealand in 1865 and made a trek on foot to the Kaipara, following bullock tracks, staying in a sawmill at Ararimu, a store at Kaukapakapa, a Ngaati Rango village beside the Makarau river, and a whare on John James Atkinson's farm at Komokoriki"--Publisher information.
3rd edition, in three volumes, 2015.
Other Titles: Voyage to New Zealand
Publisher: Coromandel, New Zealand : Wendy Pond, [2015]
Format: viii, 2, 91 pages :illustrations, maps ;30 cm
See original record
This item in New Zealand libraries
https://natlib.govt.nz/records/35338696
---
Share this item