Numbers & the number system / author, Charlotte Wilkinson, B.Ed (Hons) ; designer, Nigel Wilkinson, B.Sc (Hons), PGCE.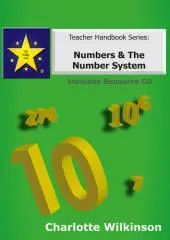 Identifier: ISBN 9780473311797
Series: Wilkinson, Charlotte, 1961- Teacher handbook series.
"Designed to provide teachers with an in depth knowledge of the number system. The language, both spoken and symbolic. Additive and multiplicative structures. Making use of the place value system for estimating and using mental strategies for calculating. The handbook contains learning outcomes, teaching activities, follow up work and word problems. Assessment tasks are included to find out how efficiently your students can use the number system at different developmental points in their learning"--Publisher's website.
CD-ROM. Classroom activities -- BPVK worksheet -- Word problems pdf -- Answers -- Assessment tasks.
"The Wilkie Way."
Other Titles: Numbers and the number system
Publisher: Rotorua, New Zealand : NC Wilkinsons Limited, [2015]
Format: 114 pages :colour illustrations ;25 cm1 CD-ROM :digital,12 cm
See original record
This item in New Zealand libraries
https://natlib.govt.nz/records/35298879
---
Share this item