Lillibutt's Te Araroa adventure / by Maris O'Rourke ; illustrated by Claudia Pond Eyley.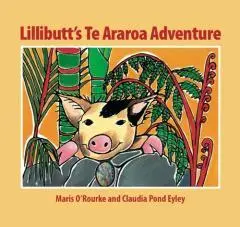 Identifier: ISBN 9781877378928 (hardback), ISBN 9781877378935 (paperback), ISBN 1877378933
When Lillibutt the kunekune pig decides to walk from Cape Reinga to Auckland she meets others along the way and overcomes some scary challenges during her long adventure.
Picture story book for children.
Target audience: Junior, primary.
Publisher: Auckland, New Zealand : Duck Creek Press, 2014.
Format: 1 volume (unpaged) :colour illustrations, colour maps ;22 x 26 cm
See original record
This item in New Zealand libraries
https://natlib.govt.nz/records/35118210
---
Share this item