Identification guide to Coleoptera adults intercepted on trade pathways / Franz-Rudolf Schnitzler, Rebecca Campbell, Lalith Kumarasinghe, Dave Voice, Sherly George.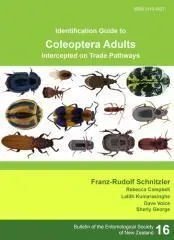 Date

2014.

By

Schnitzler, Franz-Rudolf, 1952- author., Campbell, Rebecca, author., Kumarasinghe, Lalith, author., Voice, David, author., George, Sherly, author., Entomological Society of New Zealand, issuing body.

Identifier

ISBN 9780473295974

Series

Bulletin (Entomological Society of New Zealand) ; 16.

Notes

Includes bibliographical references and index.

Other Titles

Coleoptera adults

Publisher

[Auckland] : The Entomological Soceity of New Zealand, 2014.

Format

206 pages :colour illustrations ; 24 cm.
See original record
Click to request to view this item, access digital version (if available), and see more information.