Morgan goes to Sleep / written by Richard Fairgray, Tara Black & Terry Jones ; illustrated by Richard Fairgray ; colours by Tara Black.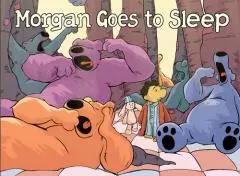 Date

[2014]

By

Fairgray, Richard, 1985- author, illustrator., Jones, Terry, 1948 June 21- author., Black, Tara, 1984- author, illustrator.

Identifier

ISBN 9780473290771

Summary

Morgan cannot sleep, so embarks on an epic mission to find Sleep, collecting snores, counting sheep and yawning along the way.

Notes

Picture story book for children.

Publisher

[Auckland] : Square Planet, [2014]

Format

1 volume (unpaged) :colour illustrations ;20 x 28 cm
See original record
Click to request to view this item, access digital version (if available), and see more information.