Morgan goes to Sleep / written by Richard Fairgray, Tara Black & Terry Jones ; illustrated by Richard Fairgray ; colours by Tara Black.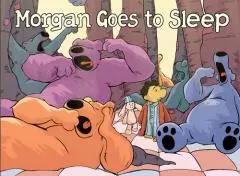 Identifier: ISBN 9780473290771
Morgan cannot sleep, so embarks on an epic mission to find Sleep, collecting snores, counting sheep and yawning along the way.
Picture story book for children.
Target audience: Junior.
Publisher: [Auckland] : Square Planet, [2014]
Format: 1 volume (unpaged) :colour illustrations ;20 x 28 cm
See original record
This item in New Zealand libraries
https://natlib.govt.nz/records/34173188
---
Share this item