Morgan, the moreporks and the moon / written by Richard Fairgray, Tara Black and Terry Jones ; illustrated by Richard Fairgray ; colours by Tara Black.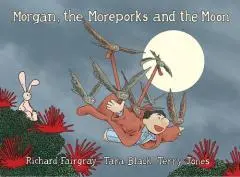 Date

[2013]

By

Fairgray, Richard, 1985- author, artist., Jones, Terry, 1948 June 21- author., Black, Tara, 1984- author.

Identifier

ISBN 9780473247041

Summary

One day Morgan wants to know what the Moon's name is, and he knows the only way to find out is to ask.

Notes

Picture story book for children.

Publisher

[Auckland] : Square Planet, [2013]

Format

1 volume (unpaged) :colour illustrations ;21 x 28 cm
See original record
Click to request to view this item, access digital version (if available), and see more information.