The Baker boys / Clinton mhic Aonghais.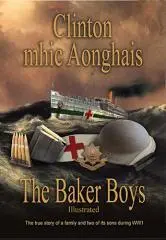 Identifier: ISBN 9781490739090 softcover
"The account of a Suffolk family and two of its sons - one from England and the other from New Zealand. One would experience the plight of those at Gallipoli, Egypt and in Palestine, while the other would have his destiny played out on the Western Front in France. This is a true story that covers hardship and sacrifice, from prison hulks on the Thames to the vagaries of WW1 at sea, on the ground, and in the air. From New Zealand's two WW1 hospital ships and air attacks at Gallipoli, to Zeppelins over England; from U boats and disaster at sea to the horrors of the Somme. It was a time when love, hardship and duty were forged together with the fighting of a war that was supposedly 'the War to End all Wars"--Back cover
Novel based on a true a story compiled and written with material from many sources.
Publisher: [Bloomington, Indiana] : Trafford Publishing ; [2015]
Format: xxiv, 887 pages :illustrations ;23 cm
See original record
This item in New Zealand libraries
https://natlib.govt.nz/records/31818841
---
Share this item